News and views
Test for Revolver as clubs "weapon''
November 16, 2012
Revolver Cricket's potential as a weapon which battling junior clubs can use to address alarming drop-off rates is set to be tested in one of Queensland's major problem areas on Sunday.
Organisers are hoping a demonstration game at Caboolture Cricket Club's Grant Road complex, north of Brisbane, will be the catalyst for a bold new approach in the Sunshine Coast region, which has lost 42 junior teams in the past four years.
Caboolture club president Steve Adams has recognised Revolver's unique capacity to ensure all players are involved in the game at all times — and welcomed the opportunity to host a "Tri-Fives'' game for 11/12-year-olds.
It will feature teams from two local primary schools – St Peter's, Caboolture, and St Eugene's, Burpengary – along with a Caboolture junior club selection.
Sunday's demonstration game is scheduled to start at 9.30am
For more information, phone Peter Thomson (0422 004 716), Czes Parchimowicz (0414 913 649) or email info@revolvercricket.com.
Revolver's sights on 'mature-age' comps
August 6, 2012
Revolver Cricket is poised to break new ground with a series of trial/demonstration games for 'mature-age' players.
The Queensland-based Revolver development team is hopeful the trials can pave the way for the establishment of a range of social/formal competitions in the Moreton Bay region, north of Brisbane – and create an exciting template for future national and international take-up.
"Up until now we've largely focused our energies on getting the Revolver concept out there – principally as a modified game for schools and, across the board, as a refreshing new adjunct to traditional cricket training routines," Revolver co-inventor Peter Thomson said.
"But, given that we've always seen Revolver as having the potential to be a dynamic, all-inclusive, all-ages alternative to other forms of the game, we feel it's about time we put that 'theory' to the test."
Thomson acknowledged the "brilliant" support of Moreton Bay Regional Council, in making a suitable venue available, and the efforts of Caboolture Business Centre general manager Geoff McKenzie and North Lakes Chamber of Commerce and Industry president Kevin Lovewell in pulling together teams for the inaugural trial.
The first trial/demonstration game is scheduled for Sunday, August 12, at the Devine Court Sportsground, Morayfield (off Buchanan Road) – from 9am.
Further games, targeting other sectors of the local community, are planned for Sunday, August 19 (also at Devine Court) and Sunday, August 26 (at Lindsay Road Sportsground, Burpengary).
For more information, phone Peter Thomson (0422 004 716), Czes Parchimowicz (0414 913 649) or email info@revolvercricket.com.
Revolver role in Japanese school visit
March 19, 2012
A budding relationship between Australian and Japanese school children has highlighted the role Revolver Cricket can play in helping break down cultural barriers.
Brisbane's St Ambrose's School will this week play host to a group of young students from Chiba, the capital city of Chiba Prefecture, about 40km east of Tokyo.
The tour group is headed by Yumi Ishimoto, a Japan Cricket Association development officer who was introduced to Revolver Cricket during a brief fact-finding visit to Brisbane in May last year.
"Being able to watch a demonstration game of Revolver Cricket while she was here did more than arm Yumi with a new development tool to take back to Japan,'' said Revolver Cricket's Peter Thomson.
"She was also keen to assess the possibilities of a cultural exchange program with a school that embraced Japanese studies. As it happens, Richard de Waal, one of our Revolver team, has a strong association with St Ambrose's School, which fitted the bill perfectly, so it's all come together from there."
A highlight of the Japanese students' Brisbane visit will be a "mini international" Revolver cricket match on Friday. They will be staying with St Ambrose's families.
Revolver helps Namibia score awards double
February 08, 2012
Revolver Cricket has been acknowledged for its role in a notable Cricket Namibia double at the Pepsi ICC-Africa Development Program Awards – and global success beckons.
As a continental winner for Best Overall Cricket Development Program and Best Junior Participation Initiative, Namibia now qualifies for ICC global awards in both categories. They are scheduled to be announced later this month.
According to Namibia Sport, development manager Marsia Reed said Cricket Namibia felt "very honoured" to add two more awards to its growing collection and that "it shows that our efforts are being recognised and that we are doing something right here in Namibia".
The first national development manager to embrace the Revolver concept, Reed said: "We are definitely leaders in development programs in Africa and we are also assisting other African countries with their programs."
Namibia Sport reports: "The Best Junior Participation Initiative award was specifically for Cricket Namibia's Under 11 program, which included an Under 11 Cricket League, the Under 11 Coastal Cricket Development Tournament, and the Under 11 Revolver Cricket program, which took place in June last year.
"On that occasion, Namibia became the first country in the world to introduce the Revolver Cricket concept in an organised tournament." (See earlier story)
Revolver Cricket v Diamond Cricket
– It's a no-contest!
December 20, 2011
The launch of Australian cricket"s Big Bash League may have served to highlight where the game"s headed at the pointy end. But, at another level, in the view of Revolver Cricket's creators, it also offered a telling reminder of the role Revolver can play in its grassroots development.
To them, this was starkly illustrated by the inclusion of a game of Diamond Cricket on Brisbane Heat's fan day program in the run-up to its opening Big Bash match against Sydney Sixers.
"With due respect, while we obviously recognise that games like Diamond Cricket have their place, we believe that, as a multi-tiered development tool, Revolver better represents the sort of future Australian cricket is looking to embrace,"" Revolver Cricket co-inventor Peter Thomson said.
"As such, had the opportunity presented itself, we would have loved to have been able to showcase the Revolver concept at a time when Australian cricket is entering an exciting and challenging new era."
Thomson said many junior cricket coaches and PE teachers had made the observation that, in its most structured form, Revolver Cricket's basic layout is very similar to that of Diamond Cricket.
"But that, essentially, is where the similarity ends,"" he said.
"Across our whole range of games – from fun, "freestyle" schoolyard activities to competitive, scored team games – we would argue that, thanks to the unique dynamics that our revolving stumps create, Revolver Cricket is genuinely far more "inclusive".
"Also, in terms of developing all the disciplines, batting, bowling and fielding – and not least the running between wickets – Revolver stays absolutely true to cricket.
Revolver far more than 'clever gimmick'
September 3, 2011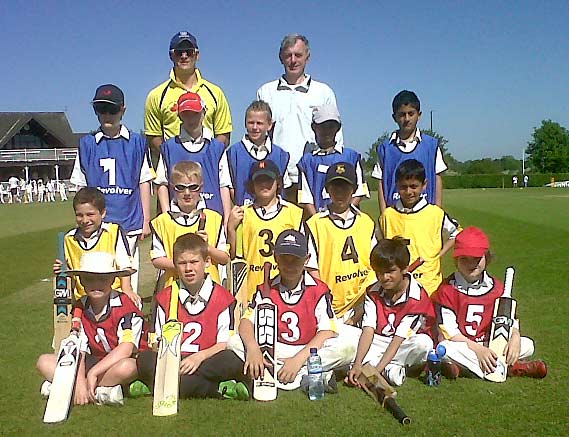 One of England's most respected cricket scribes has warned cricket authorities they would be misguided and shortsighted if they were to view Revolver as no more than a "clever gimmick".
Charlie Randall, a former long-time London Daily Telegraph cricket writer and member of the renowned Radlett Cricket Club, Hertfordshire, last year described Revolver as "the most potent development in grassroots cricket for a long time".
He has since conducted a number of trial games across a range of age groups within Radlett CC's junior program.
Reporting on his most recent trials, Randall (pictured top right) says he hopes cricket authorities "have the commonsense to accept overwhelming evidence how user-friendly and educational this game is".
At this stage, Randall writes, "they probably see it as a clever gimmick that attracts novices whereas Revolver is a game that teaches AND retains players".
"Having run quite a number of Revolver games, I KNOW the concept is exceptional, I have witnessed that ALL players ALWAYS love playing, and consequently one notes that the parents are impressed," Randall writes.
"The competitive element can hardly be more realistic – the scoresheet is brilliant – and proper match situations happen in abundance, allowing proper applied coaching. I often stop games briefly to quickly make points about cricket playing."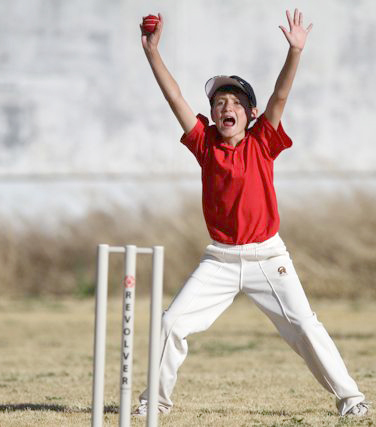 Howzat? – 'Brilliant', says African development dynamo
June 28, 2011
The driving force behind the world's first Revolver Cricket tournament has heaped praise on the Revolver concept – describing its unique scoring system as "brilliant'.
Cricket Namibia's development manager, Marsia Reed, was reflecting on the opening day of the Momentum Youth Cricket Festival, being held in the Namibian capital of Windhoek.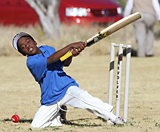 The festival, featuring 144 players in three age groups (Under 11, Under 13 and Under 19), is showcasing Revolver in the Under 11 competition – with Under 13 players acting as scorers.
"I wish to congratulate you on the modified score sheet produced for Revolver Cricket," Reed writes.
'For a long time I've been working at simplifying scoring (and score sheets) as well as umpiring to introduce to youngsters and get them involved in that part of the game.
"I introduced your score sheets to the Under 13s with your explanation/example sheet and we discussed in for 20 to 30 minutes. I was incredibly surprised (on the opening day) to see the youngsters scoring, walking around the field with the umpire, keeping up ball by ball, being part of the game … and enjoying it.
"To summarise, your modified scoring sheet is brilliant!! Easy enough for Under 13s to complete correctly and sufficient enough to gather stats from as well.
"Thank you again for offering us the opportunity to play this innovative format of cricket. The kids enjoyed it thoroughly as well as the parents."
Cricket Namibia, whose CEO, Laurie Pieters, has previously described Revolver Cricket as "the greatest development tool to take to the non-traditional cricket-playing population of Namibia", had earlier announced a $N30,000 festival sponsorship — courtesy of leading life assurance company Momentum.
A Momentum representative, Madri Frewer, hailed Revolver Cricket as a "revolutionary concept" and its inclusion in the festival program as an historic "first".
"We are happy to be part of it," she said. "It's a new style of cricket that will take Namibia by storm. We hope the tournament will go from strength to strength and we will be back next year to support it."
The seven-week Momentum Youth Cricket Festival concludes on July 26.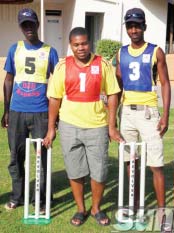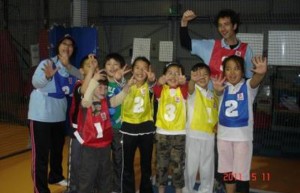 Revolver going global
May 27, 2011
Contrasting events on two continents – Africa and Asia — have served to highlight Revolver Cricket's growing appeal in some of the world's emerging cricket nations.
While Cricket Namibia development staff are preparing for a national Youth Festival in Windhoek, starting next month, Japan Cricket Association development officers have introduced an enthusiastic group of youngsters to the Revolver Cricket concept in Chiba.
As an acknowledged pacesetter amongst Africa's emerging cricket nations – having won major ICC awards for Best Development Program — Cricket Namibia is showcasing Revolver as part of its burgeoning Youth Festival, which this year runs over seven weekends from June 10 to July 24.
Referring to the potential spin-offs for Revolver, Cricket Namibia's development manager, Marsia Reed, reports: "The rest of Africa is watching."
The introduction of Revolver Cricket in Japan follows a visit to Australia earlier this month by one of JCA's development officers, Yumi Ishimoto.
In Queensland to lay the groundwork for a possible cultural exchange program, Yumi watched a Revolver Cricket demonstration game at St Eugene College, Burpengary, north of Brisbane.
"Having established a Japanese connection, it's really pleasing to think Revolver could become a significant development tool in that country, " Revolver Cricket director Peter Thomson said.
"But, frankly, with a country like China on its doorstep, it's also impossible not to find ourselves contemplating the enormous possibilities that might ultimately represent."
Japan joins Revolver revolution
May 4, 2011
Revolver Cricket is poised to make an impact in another fledgling cricket country – not for the first time, thanks to the innovative thinking of a female development officer.
Revolver Cricket's creators will this week play host to Yumi Ishimoto, who works out of the Japan Cricket Association's Chiba office and is visiting Queensland on a brief fact-finding mission.
Yumi's interest in the Revolver Cricket concept follows the establishment of an ongoing relationship with Cricket Namibia, which has embraced the concept through its development manager, Marsia Reed.
In Brisbane to lay the groundwork for a possible junior player exchange program, Yumi will, amongst other things, watch a Revolver demonstration game at St Eugene College, Burpengary.
St Eugene's was the venue for Revolver's first public demonstration game in March, 2010, and in October it hosted an ABC film shoot for the New Inventors program (aired on March 2, 2011).
Revolver scores timely ICC endorsement
March 21, 2011
Revolver Cricket's credibility as a development vehicle has soared – thanks to a timely tick of approval from the game's world governing body.
The International Cricket Council has seen fit to include Revolver Cricket in its recently-released Participation Pathway Guide, which it describes as a "best practice user guide" — highlighting principals and ideas to enable member countries to "substantially and sustainably grow the participation base of world cricket".
Revolver Cricket is included in the ICC's guide under the heading Lifestyle Cricket, which it says is a "very broad term for cricket being played in a non-traditional format".
"Lifestyle cricket is an important consideration to any participation pathway program … often a great entry point for people into the more traditional cricket pathway," says the ICC's Development Team which produced the Participation Pathway Guide.
"Some lifestyle cricket initiatives involve more formalised teams, fixture and rules whereas others just represent an opportunity to sample the game of cricket in a modified, informal setting."
Revolver Cricket co-creator Peter Thomson said he and his colleagues were delighted to see their brainchild receiving official ICC recognition.
"What probably pleases us most is that, looking at many of the familiar games and drills mentioned, Revolver Cricket would appear to be perhaps the only truly new concept featured in the guide," Thomson said.
"We're not saying we think the others are necessarily old and tired, but we certainly do contend that Revolver is refreshingly different — and ticks a lot more boxes."
Give Revolver a shot – but don't go off half-cocked
March 16, 2011
Random sightings of school groups trialling Revolver Cricket have the game's creators intrigued – and concerned that some of them might be "going off half-cocked".
The appearance of a Revolver segment on ABC TV's New Inventors program earlier this month has triggered a welcome surge of interest in the Revolver Cricket concept.
But, in the absence of more direct feedback, its developers – Peter Thomson, Czes Parchimowicz and Richard de Waal – fear there's a danger of would-be Revolver fans "not doing Revolver, or themselves, justice".
"That applies particularly in schools, where we know cricket is so often put in the 'too hard' basket when it comes to organising PE activities," Thomson said.
"While we've been pleased to field quite a few enquiries since the New Inventors program went to air – and to hear anecdotal evidence of school groups giving Revolver a go – we're concerned some might be going off half-cocked and failing to recognise all the possibilities Revolver's range of games offer."
Thomson said the Revolver Cricket concept had been developed with school PE teachers "very much in mind" and addressed the sort of issues that may have prompted many of them to adopt a "too hard" attitude towards cricket.
"We don't profess to have all the answers, but we do think Revolver's more than worthy of serious consideration," he said.
"Not least because, unlike traditional cricket, our games ensure that no players are left languishing on the sidelines – they're all involved all the time – and they cater for anything from four to 24-plus players, playing anything from fun French Cricket-style games to more serious, structured, scored games.
"And perhaps more importantly, because, with its all-inclusiveness — and the revolving team and player roles — they can be tailored to suit any time frame without compromising any child's involvement."
Thomson said he and his colleagues could "perfectly understand" why schools, or clubs, might baulk at acquiring Revolver-specific equipment before first satisfying themselves of its potential.
"By the same token, we would respectfully suggest that our Revolver Stumps – quite apart from their novelty – are critical to creating a truly fun, dynamic game … not to mention the role they can play in a team training environment.
"Likewise, we see our numbered player bibs and Revolver-specific scoring system as vitally important to the smooth running of our more serious, structured games."
Read Insight into the unique leadership and support skills encouraged by Revolver Cricket. (at bottom of this page)
All enquiries to info@revolvercricket.com.
World Cup legend backs Revolver
March 14, 2011
A doctor-cum-wildlife conservationist who commands a unique place in World Cup sporting history has thrown his support behind Revolver Cricket's push into Africa. Rudie van Vuuren, the first man to represent his country at both a cricket and rugby World Cup – and in the same year (2003) – has welcome Cricket Namibia's decision to embrace the Revolver concept as part of its national development program.
"This sounds very interesting and I think we can look at something to promote Revolver Cricket," van Vuuren said in an email to Revolver co-inventor Peter Thomson.
A former Namibian rugby flyhalf and cricket allrounder, van Vuuren now runs a wildlife sanctuary, with his wife Marlice, about 42km outside the Namibian capital of Windhoek.
Meanwhile, Cricket Namibia CEO Laurie Pieters reports that ongoing wet weather – Windhoek has already had twice its annual rainfall – continues to frustrate attempts to introduce Revolver into local schools.
Weather permitting, a familiarisation session for coaches and teachers is due to go ahead this week and plans are already in place to include Revolver on a national Youth Festival program in May.
Sports Minister attends Revolver demo
March 18, 2010
Revolver Cricket scored quite a coup in having Queensland Sports Minister Phil Reeves attend its first official demonstration game — staged at St Eugene College, Burpengary, north of Brisbane — on March 17.
The interest shown by Mr Reeves, and local state MP Mark Ryan, represented the icing on the cake at a landmark event declared a resounding success by all involved.
The Revolver Tri Fives game featured players from St Eugene College and St Peter's Catholic Primary School, Caboolture, plus a composite team brought together following the withdrawal (due to transport problems) of a team from Christ the King Catholic Primary School, Deception Bay.
Despite threatening weather, and an unfortunate scoring hiccup, all players demonstrated tremendous enthusiasm for the game – and, overwhelmingly, reserved their biggest "tick" for the all-inclusive nature of the game which allowed them all to enjoy equal time batting, bowling and fielding .
"To have all 15 boys equally involved with no one person dominating because of superior talent was the greatest success," St Eugene's Terry Frawley reported.
"I now have a principal ready to support us with some more equipment and 15 boys eager to teach the game to our school." The Revolver Cricket team would like to acknowledge the magnificent, ongoing support shown by Mr Frawley and St Peter's principal Jim Midgley. Mr Ryan, also a wonderful supporter of the Revolver concept, later presented all participants with a certificate, saying they had all been "part of history". "When Revolver Cricket's being played all over the world, you'll be able to say you played in the first ever public demonstration game," he told them. .
Insight into the unique leadership and support skills encouraged by Revolver cricket
By Brian Berge*
Team sport tends to be both adversarial and tribal. The 'us' and 'them' divisions are starkly distinguished by a myriad of parameters: livery; the outcome (there are clearly defined winners and by definition the others are losers); there are no grounds for co-operation between between contestants and normally no grounds, or tradition, for co-operation between supporters of the contestants.
The adversarial culture is probably even more intense in 'one' on 'one' sports e.g. boxing. Athletes who make the transition from junior to elite senior level are probably characterised by both an unusual mental and physical toughness, probably also single mindedness and will to win. Anyone who has played sport would recognise that many of the characteristics/ cultural elements that are acceptable/valued/desirable in a sportsperson or sporting environment are not necessarily acceptable/valued/desirable in extreme forms in non sporting situations. Perhaps highly successful business people might say that success in business requires some measure of similar attributes.
We would contend that, as a sport, Revolver Cricket is markedly different and desirably so. The triangular ' revolving coalition' configuration of Revolver imbues the game with a range of subtle incentives that are absolutely unique and valuable to a balanced life: Revolver is a contest between three teams not two. The contest is adversarial but not in a 'one' on 'one' sense. The structure of the game means that every participant has an equal opportunity, in fact an equal obligation, to participate to an equal extent as a bowler and batter and fielder.
Revolver encourages teams to strive for success, rewards are maximised where players exercise and accept co-operation, encouragement, leadership and respect for other participants especially when they are part of your coalition. And all other participants will at some stage of the contest be in coalition with you and your team. The structure of the game enjoins the players to exercise and accept leadership, encouragement and support in a way perhaps not normally dictated by instincts or learned inclinations.
Dominant players will learn that it is in their interests to support, encourage etc the weakest link not only in their team but the weakest link in the team which is at the time their coalition partner. Revolver will foster a revolutionary new dimension in, and definition of, 'leadership' in sport. We contend that Revolver will foster forms of leadership and behaviour that will be valued elsewhere in life. Revolver encourages the will to win. But the team that wins will know that each of the other teams in the contest contributed to their success because they were at some time in the contest their coalition partner. The non-winning teams have an invested share in the success of the winning team.
Dare I say that you can have a winner without losers or is that taking it too far? We contend that Revolver reconfigures the cultural competitive setting in team field sport without sacrificing rewards for skill and the striving for excellence. Considering junior/school sport, we further contend that Revolver has a strong inherent counter bullying culture.
Of course a person with an unreasoning bullying instinct will still find reason to take a set against other participant/s but we believe that such an approach, within the compass of the game, will be self defeating. We would hope that the lessons of Revolver would extend beyond the experience of the contest. *Brian Berge is a Revolver Cricket Enterprises consultant