Wednesday, June 29th, 2011
'Brilliant', says African development dynamo
June 28, 2011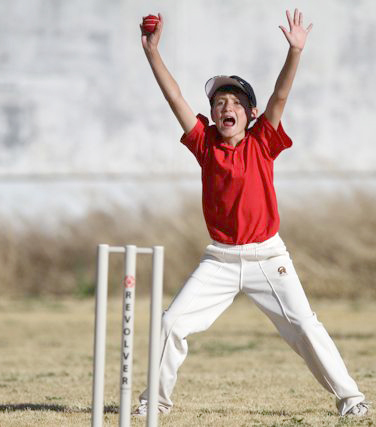 The driving force behind the world's first Revolver Cricket tournament has heaped praise on the Revolver concept – describing its unique scoring system as "brilliant''.
Cricket Namibia's development manager, Marsia Reed, was reflecting on the opening day of the Momentum Youth Cricket Festival, being held in the Namibian capital of Windhoek.

The festival, featuring 144 players in three age groups (Under 11, Under 13 and Under 19), is showcasing Revolver in the Under 11 competition – with Under 13 players acting as scorers.
"I wish to congratulate you on the modified score sheet produced for Revolver Cricket,'' Reed writes.
''For a long time I've been working at simplifying scoring (and score sheets) as well as umpiring to introduce to youngsters and get them involved in that part of the game.
"I introduced your score sheets to the Under 13s with your explanation/example sheet and we discussed in for 20 to 30 minutes. I was incredibly surprised (on the opening day) to see the youngsters scoring, walking around the field with the umpire, keeping up ball by ball, being part of the game … and enjoying it.
"To summarise, your modified scoring sheet is brilliant!! Easy enough for Under 13s to complete correctly and sufficient enough to gather stats from as well.
"Thank you again for offering us the opportunity to play this innovative format of cricket. The kids enjoyed it thoroughly as well as the parents.''
Cricket Namibia, whose CEO, Laurie Pieters, has previously described Revolver Cricket as "the greatest development tool to take to the non-traditional cricket-playing population of Namibia'', had earlier announced a $N30,000 festival sponsorship — courtesy of leading life assurance company Momentum.
A Momentum representative, Madri Frewer, hailed Revolver Cricket as a "revolutionary concept'' and its inclusion in the festival program as an historic "first".
"We are happy to be part of it,'' she said. "It's a new style of cricket that will take Namibia by storm. We hope the tournament will go from strength to strength and we will be back next year to support it.''
The seven-week Momentum Youth Cricket Festival concludes on July 26.